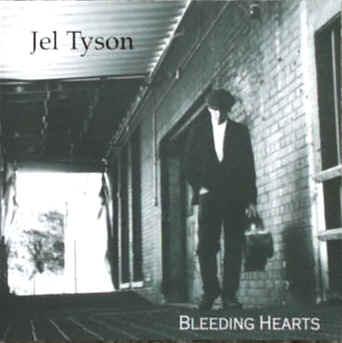 Check out the updates at bottom of page
Veteran award-winning singer/songwriter Jel Tyson has released his first recording (CD) in a decade, "Bleeding Hearts" on the independent label Lightning Ridge Records. The twelve song CD is a compilation of unique style, mixing 60's pop and country, with Celtic influences, a blend some have referred to as "Anglo Country".
Follow this link for a listen www.mp3.com/jeltyson
Currently
mp3.com is under reconstruction
"Bleeding Hearts" reflects his varied, but strong interest in a very unique mixture of sounds stemming from his heritage, and the musical icons he began listening to as a kid, including Hank Williams Sr., Buddy Holly, and The Beatles. The Irish Celtic influence is definitely a part of his music today, serving as an emotional and motivational force in his songwriting.
"Bleeding Hearts" features Tyson's strong talents for blending up-tempo songs with softer ballads, best displayed in cut number one-"She's got my ring", and cut number two-"Juliet". Each song was written by Tyson, he also performed lead vocal, mandolin, bass, electric and acoustic guitar playing, also co-producing the recordings.
"My musical journey has certainly turned down many paths all leading to some of my finest work featured on my CD "Bleeding Hearts".
To Order Jel's CD's go to contact-info page
JT